Kid Pan A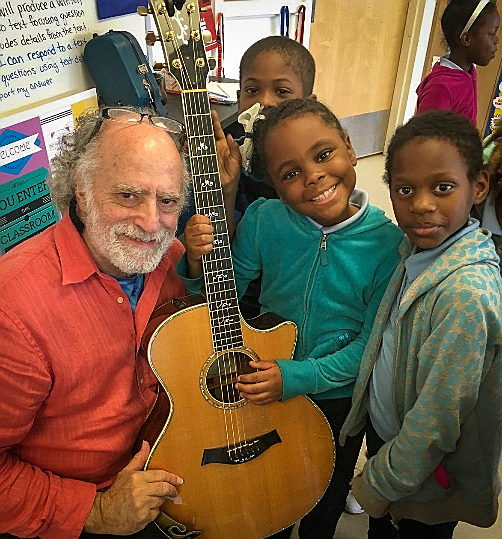 lley's mission is to inspire creativity, build confidence, and foster community among children of all ages through the group songwriting process. Founded in 1999, Kid Pan Alley has written almost 3000 songs with over 70,000 children in schools across the country, from Virginia to Hawai'i.
Our professional teaching artists guide students to create an original song together, helping kids think and write creatively as they connect with history, culture, current events, and their own experiences. Students learn to express themselves artistically while respecting the diverse perspectives of their peers. Kid Pan Alley songs are a sophisticated and powerful world-view as seen through the eyes of the children. Our songs have been recorded by artists like Amy Grant, Sissy Spacek, Delbert McClinton, Cracker, Kix Brooks, and many others. We've released 5 studio albums and won numerous awards - including two Parents' Choice Gold Awards, a WAMMIE, and even a Grammy nomination for one of our recordings.
When the pandemic forced schools to shut down last year, Kid Pan Alley's staff and Board moved quickly to transition our programs to the virtual world – offering online songwriting workshops free of charge to children whose schools had suddenly closed, and creating a virtual house concert series to support musicians whose gigs had been canceled. We wrote songs with seniors who were stuck at home and unable to visit with their families; we developed a pilot program for teens that used songwriting as a platform for dialogue; and we partnered with camps, libraries, and community arts organizations to bring Kid Pan Alley workshops to as many children as we could.
The children gave voice to what they were going through, writing powerful songs about their fears and hopes -- including this wonderful piece which will be featured on our upcoming album of quarantine songs:
Kid Pan Alley has been keeping the music going ever since, giving children -- and adults -- a much-needed outlet for creativity and community during this unimaginable year of upheaval and loss. We are working with more schools than ever before -- writing songs both online and in-person. Our online house concerts are still going strong, featuring regional and national artists along with Kid Pan Alley hosts Paul Reisler and Cheryl Toth:
Click here to see our upcoming shows:
Thanks to your generous gift today, we will be able to keep our programs going strong into the 2021-2022 school year and continue to give children of all ages the chance to share their stories and make their own music together.
We are so grateful for your support!